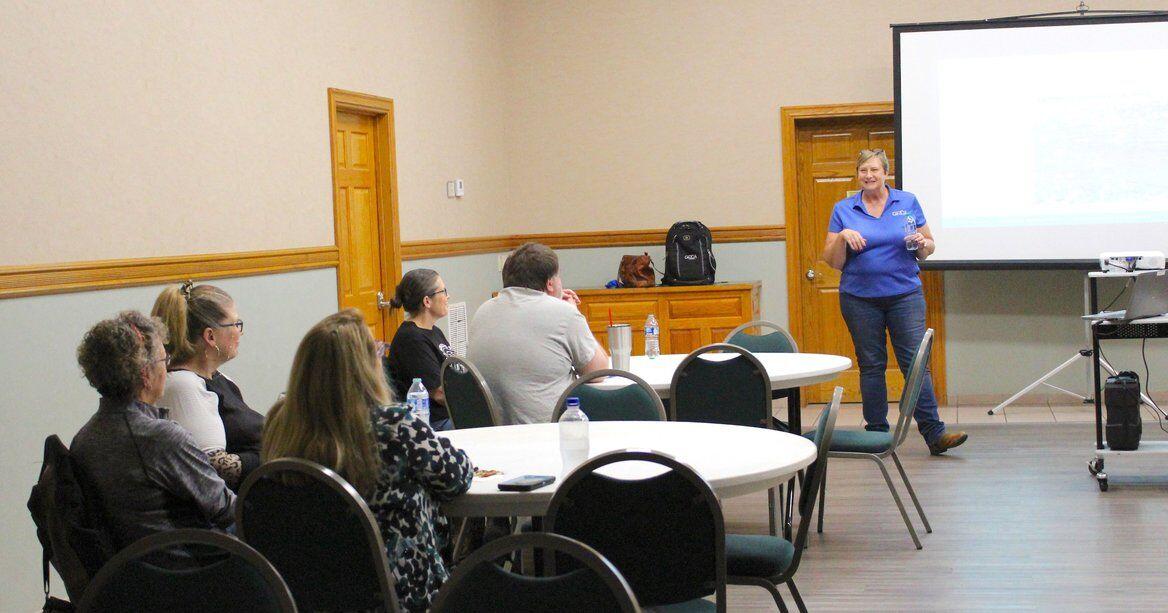 workshop shows how landscaping can help improve the region's water quality | News
The City of Tahlequah and the Grand River Dam Authority hosted a workshop this week, demonstrating how landscaping can protect water quality.
City stormwater manager Mohamed Bassime said the event was his first outreach since taking up his new post.
On Tuesday, November 16, Jeri Fleming, of GRDA's Ecosystems and Watershed Management Department, explained to residents how runoff from Tahlequah Creek drains into the Illinois River and flows into the Gulf of Mexico.
"Everything we do in the watershed part is going to affect that, and we have to think about the fact that we all live in a watershed, and what we can do can make a difference," Fleming said.
The Oklahoma Department of Environmental Quality lists degraded waters – those that do not meet the intended beneficial use. Fleming explained that a "beneficial use" could be defined as drinking water, use for irrigation, recreational use, and agricultural use.
"If our waterways do not meet these beneficial uses, they are altered for some reason, and we have over 11,000 miles of waterways in the state of Oklahoma that have been altered from one way or another, "she said.
Sixty-nine percent of those miles of stream were altered by an excess of pathogens or bacteria, and 22 percent were due to turbidity. Twenty-two percent occurred due to low dissolved oxygen content and 18 percent total dissolved solids.
"The sources of these particular types of pollutants are things that we can try to do something about, because they are the result of stormwater runoff," Fleming said.
Careful landscaping can help improve water quality, and Fleming said there are several practices that can help ensure it.
"If you put in too much fertilizer, chemicals, or pesticides that weren't absorbed, everything will go away. What happens to these nutrients when they enter the waterway is that they do exactly what they do on land, "she said.
These nutrients cause plants to grow on land that will produce algae in the water.
"Our mowing practices can have an impact, so when we mow our grass that is too short, we don't give the roots time to grow deeper. It takes about three to five days for the roots to start growing again, "Fleming said.
The more the grass grows, the deeper the roots sink. Roots are a conduit for water and these help hold a yard in place.
"If you only have a very shallow root system and not a lot of grass, and you get a heavy rain, you're going to have erosion in your yard," Fleming said.
Another practice is to mulch a yard instead of bagging fallen leaves.
"When I leave this grass on my lawn, it will add nutrients to your soil and it will add organic content to your soil. It can actually help your garden get more moisture, which means you have to water less, "Fleming said.
Mulching grass and leaves will also keep them from clogging storm drains.
"When you start adding too much and too much, it overwhelms the system and takes a lot of oxygen. That's when you start having dissolved oxygen issues in the fall, "she said.
Rain gardens can treat runoff by filtering the water before it flows into a stream. There are two rain gardens in Tahlequah, in the McDonald's and Walmart parking lots.
"They capture this runoff and the plants and soil will filter these pollutants out of the water before it returns the stream," Fleming said.
Another good practice for retaining water in place is the use of rain barrels. These barrels capture water from a roof and can hold it for later use on lawns, gardens and houseplants.
Participants received free rain barrels from GRDA and learned how to set up and use them.