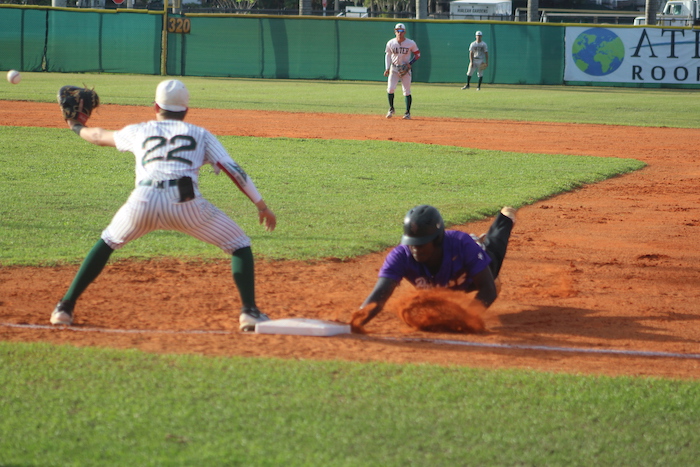 South Plantation Drops off Heartbreaker at Mater Academy
Depending on which side you were on, it was a moment of tremendous euphoria or unimaginable devastation.
That's when Mater Academy's Alex Breida executed a perfect wraparound slide at home plate to avoid a catcher's tag in the last of the seventh to give the Lions a spectacular 3-2 win over South. Plantation in a Region 4-6A quarterfinal contest at Westland Gardens Park in Hialeah Gardens.
The Mater Academy players rushed to the middle of the field to assault their hero for the moment, Diego Garcia who, with Breida at second, had just thrown a two-out ground ball between shortstop and third base in left field. Breida flew around for third place and barely beat a game-ending big pitch at home plate.
At the other end of the spectrum were the South Plantation players sprawled on the ground in despair, having to be picked up by their coaches, virtually inconsolable.
Thanks to an absolutely brilliant outing from pitcher Brady Reinhart, the Paladins entered the last of the seventh with a 2-0 lead and were three out from recording the first regional playoff victory in the program's 51-year history.
And then it all came crashing down as the Paladins made two crucial errors on the field to open the inning that ultimately led to three unearned runs for the No. 4-seeded Lions, who now advance to the semis. -Friday's regional finals where they will travel to face No. 1. 1 Dorale Academy at 4 p.m.
"It's crazy, what a bunch of kids," said Humberto Bencomo, director of Mater Academy. "They just don't stop and refuse to let this thing end. We have a group of freshmen and sophomores and we are now doing what I thought we would be doing in a few years. Absolutely amazing, I can't be more proud of them. We'll face Doral on Friday as the underdog, but that's exactly where we want to be.
Bencomo watched the entire game from a quiet dugout as Reinhart was virtually untouchable. In six innings, he had faced just two batters over the minimum as Eduardo Morales (two-out base hit to center in the first) and Ramly Cordero (a fielding single in the sixth) had been the only two base runners put down the entire game. , nor reaching the second.
When Reinhart pulled Morales to open the seventh, the Lions appeared to be just two outs away. But the South Plantation catcher trapped the ball on the third strike and had to throw to the first to get Morales. But the throw went wide and Morales was safe.
Christopher Sosa then came on and hit a routine ground ball in the second that had a 4-6-3 double play written all over it. But instead, an error left the runners at first and second with no outs. A passed ball then moved the runners up to second and third as Mater's dugout went wild with excitement. They got even crazier when a wild pitch then brought the runner home from third and Sosa down to third.
With the infield, Alex Mesa then anchored between first and second for a hit with Sosa holding at third. Eden Nalin then hit a fly ball deep enough on the right to allow Sosa to score and head home leveling the game. Equally important, Breida, who ran for Nalin, went second on the home throw trying to get Sosa into scoring position.
After Dylan Fernandez hit for the second out, Garcia then stepped up and drilled his left shot.
"There was definitely a bit of pressure, but I knew I had to go out there and shake things up," said Garcia, one of only two seniors in an otherwise very young roster. "I couldn't rely on anyone else, it was up to me. I trust myself more than anyone else. I had an 0-1 count and was looking for a fastball and I lit it and got it through the hole. When he walked into left field, I knew we had won. It's my first time doing something like this, amazing time and I'm so excited that we're moving on.
Incredibly, Breida is a PO (pitcher only) and hadn't come in as a pinch runner all season. But there he was, representing the winning run.
"As soon as I saw that ball go into left field, I dug like I've never dug in my life," Breida said. "I was flying around third as hard as I could, saw the catcher on one side of the plate so I knew where the throw was coming from, so I went low for a wraparound slide to avoid the tag. Our team has never stopped fighting. We believe in each other and we weren't going to let this race end today.
While Reinhart was throwing his gem, Mater starter Kevin Roque was also doing the work, tying Reinhart's goose eggs through the first four innings. But then came the start of the fifth when the Paladins, who finished their remarkable 18-7 turnaround season, struck for two big runs. Both came with two outs when, with Dan Swirsky at No. 2, Dylan Schwam and Reinhart hit back-to-back RBI doubles at right center.
Sosa relieved Roque after five and stopped the Paladins from giving Reinhart more breathing room by recording six-ups and six-downs to keep it 2-0.
As if there wasn't enough heartbreak from the South Plantation side, manager Trevor Chang-Leung had to say goodbye to eight seniors, all starters, who knew this was their window to possibly make a historic run. deep.
"In seven years, this is without a doubt the most difficult defeat I have faced," said Chang-Leung, himself barely consolable. "I'm heartbroken for Brady, he gave it his all tonight but unfortunately we let him down defensively in that last round. Just routine plays that weren't made, there's no no other way to sugarcoat him. He deserved better. But I'm still proud of our kids for the season we had and even though I'm heartbroken for each one of them, I feel really bad for these nine seniors because they won't have another chance.