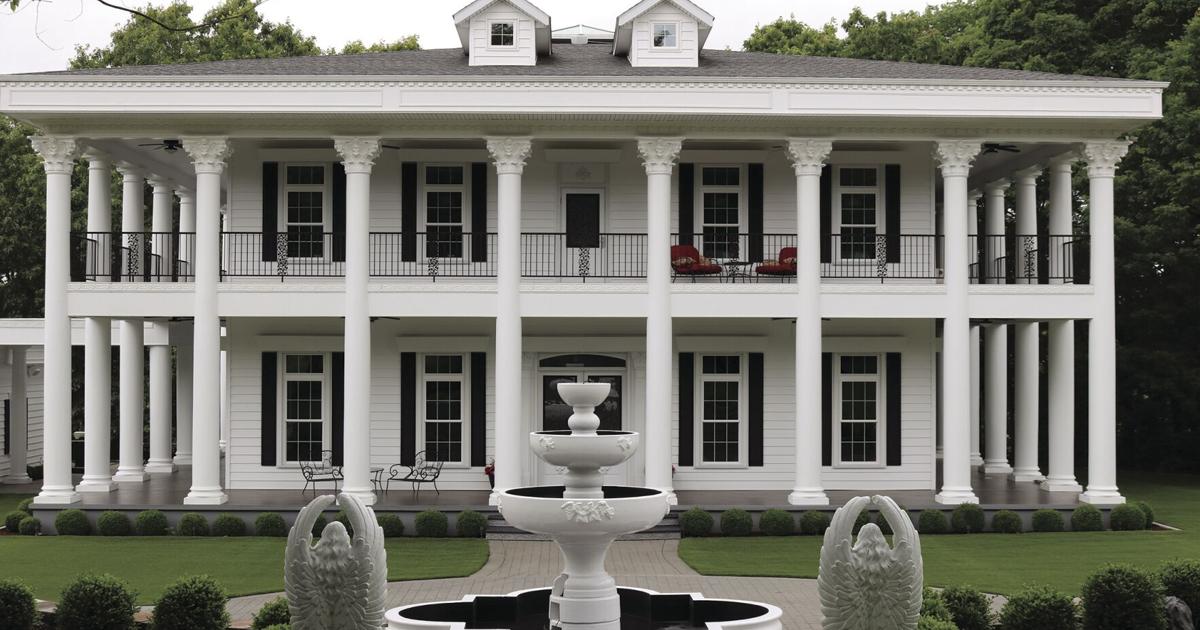 Liberty Plantation Holds Grand Opening Saturday | Local News
Step back in time with southern plantation elegance at your next event or wedding.
The Liberty Plantation, located at 224 Bass Bend Trail in Cape Fair, Missouri, will open for its grand opening and open house over Mother's Day weekend. The place will be open on Saturday May 7 from 2 p.m. to 8 p.m. and on Sunday May 8 from 2 p.m. to 7 p.m. During the event, guests are invited to view the venue, taste their exclusive catered menu and meet other wedding professionals. There will be a live band on Saturday, and a special DJ and fireworks display on Sunday, according to a press release from Liberty Plantation.
Owner Elma Eaton told Branson Tri-Lakes News the home was built about five years ago in the Antebellum (plantation) style. She said that when the house was finished, they ended up with more than half a million dollars over budget. They decided to share the beauty of the estate with others, which set them on a journey to transform their home into a unique and stylish event and wedding venue.
Eaton said the name was chosen for the style of the house, but also to show that it was new construction with no history of oppression.
"We chose the name Liberty Plantation because it is brand new construction," Eaton said. "There were never any slaves there. So liberties means freedom and we chose plantation because the style of the house, although most don't know the word antebellum, plantation was more common.
According to the Liberty Plantation website, the venue sits on 18 1/2 beautifully manicured acres on Table Rock Lake. The venue is located just 17 miles west of Branson and 39 miles south of Springfield. (Transportation can be provided for Branson event guests upon request.)
The Plantation has several landscaped areas for guests to enjoy and which guests can choose to use for their special day or event. According to the website, upon arrival, guests will take a transformative walk down a tree-covered walkway, which helps shed modern influences and fully immerse themselves in old-world charm. After passing the private stables, carriage house and enchanting water feature, guests will continue through the grounds to the Grand Gazebo ceremonial area, which proudly sports a filigree lighted domed gazebo of 18 1/2 feet high. The gazebo is surrounded by six Georgian columns in a concrete base 26 feet in diameter. This area is nestled near the treeline of the park next to one of Liberty Plantation's large oak trees with angels watching.
The Grand Gazebo area is surrounded by flowering cherry, pear, and dogwood trees, as well as hydrangeas, azaleas, rhododendrons, ninebark, spirea, and lilac bushes. There are also four flower garden areas with flowers that are sure to bloom throughout the wedding season. The bride and groom can request photo options inside the mansion as well as in the garden and lobby.
"We have a beautiful outdoor wedding area with the Grand Gazebo and lots of beautiful photo areas in the gardens," Eaton said. "We have an Eaton Hall reception building with a (stunning) marble floor and space for up to 300 guests."
Liberty Plantation's Eaton Hall boasts 4,700 square feet of opulence. It features 10 crystal chandeliers, Georgian columns, marble floors, 19½ foot ceilings and a 400 square foot dance floor. The room also includes a 450 square foot musician's loft with elevator and a commercial finishing kitchen, which will allow guests to choose a caterer to create a meal of their choice while being able to finish it on the spot. (Eaton Hall is an indoor reception space and can be used as a ceremony option in inclement weather.)
"We're a very upscale place," Eaton said. "There aren't many places in the area that can accommodate as many people as the plantation. Eaton Hall can accommodate up to 300 guests and our outdoor reception/ceremony space is huge, so we could easily accommodate 500 people without a problem. We wanted to offer something unique for the region. We are the perfect location for sophisticated and elegant weddings and events."
Eaton said Liberty Plantation is not just a wedding venue, but can host large corporate events, charity events and more.
"We could host charity events, birthdays, second weddings, fundraisers and dinner parties," Eaton said. "We have a 180 degree projection screen available so we can also host corporate events, dinner parties and corporate presentations. It goes down in front of the band area and automatically goes up into the ceiling when they're done. »
Eaton said all events must have a responsible planner or coordinator and customers can customize their event with their own vendors and caterers if they wish.
For more information, visit libertyplantation-weddings-events.com.