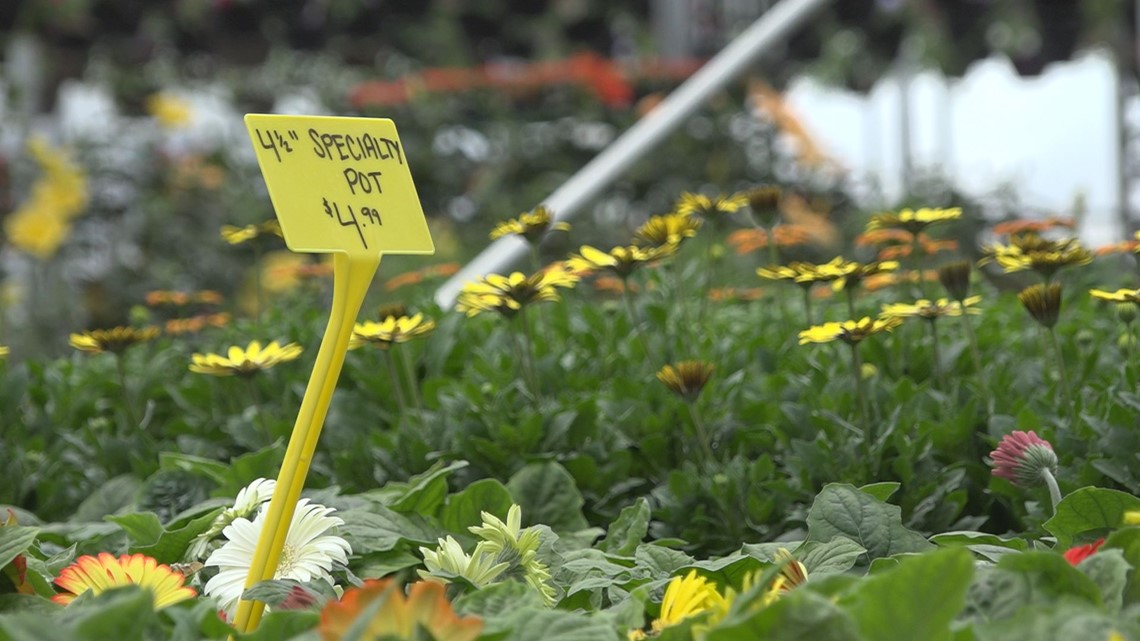 Landscaping, gardening prices are on the rise
Labor shortages, supply chain challenges and inflation are forcing greenhouses and other businesses to raise prices.
OTTAWA COUNTY, Michigan — For anyone planning summer gardening or landscaping projects, it might be a good idea to budget extra.
Inflation, supply chain challenges and labor shortages have caused greenhouse and landscaping companies to raise prices.
"Every segment of our industry is seeing increases," said Amy Upton, executive director of the Michigan Nursery and Landscape Association.
Upton said growers are struggling to find containers of plants, labor costs have risen, shipping costs have risen, fuel prices are skyrocketing, and seeds and fertilizers are hard to find. This pushes establishments to raise their prices.
"That is, they're not making any more money," Upton said, "In fact, that profit margin is shrinking every day."
At JW Greenhouses in Holland, it's the busiest time of the year. Owner Joe Miedema said they planned ahead and ordered early, so they're doing well in stock at the moment.
However, they also had to raise prices by 10-12%.
"I apologize for the price increase, none of us like it," Miedema said, "We didn't raise the price more than we had to. We just want to stay competitive and stay in business."
Miedema said he consulted with other growers in the region to compare price increases in the early spring. The problem is not raising prices enough to cover rising supply and operating costs. It's not about making extra money.
"It's just to cover our costs," Miedema said, "I wish we didn't have to raise prices, but we have to because obviously. We want to take care of our people, take care of our family and pay our bills."
The good news is that, according to Miedema, the quality and the demand are still there. Since the start of the pandemic, these industries have seen a huge surge in purchases, which he says is continuing.
"It went really well," Miedema said, "it's been really good. We've been really blessed."
Meanwhile, Upton said that while customers have to pay more for their gardening supplies, they have to do so with patience. Supply chain challenges and inflation that consumers are seeing in restaurants, grocery stores, etc. also apply to this industry.
RELATED VIDEO: Simple tips to get your lawn and garden started this spring
►Make it easier to update with more stories like this. Download the 13 ON YOUR SIDE app now.
Do you have a topical tip? E-mail news@13onyourside.comvisit our Facebook page or Twitter. Subscribe to our Youtube channel.