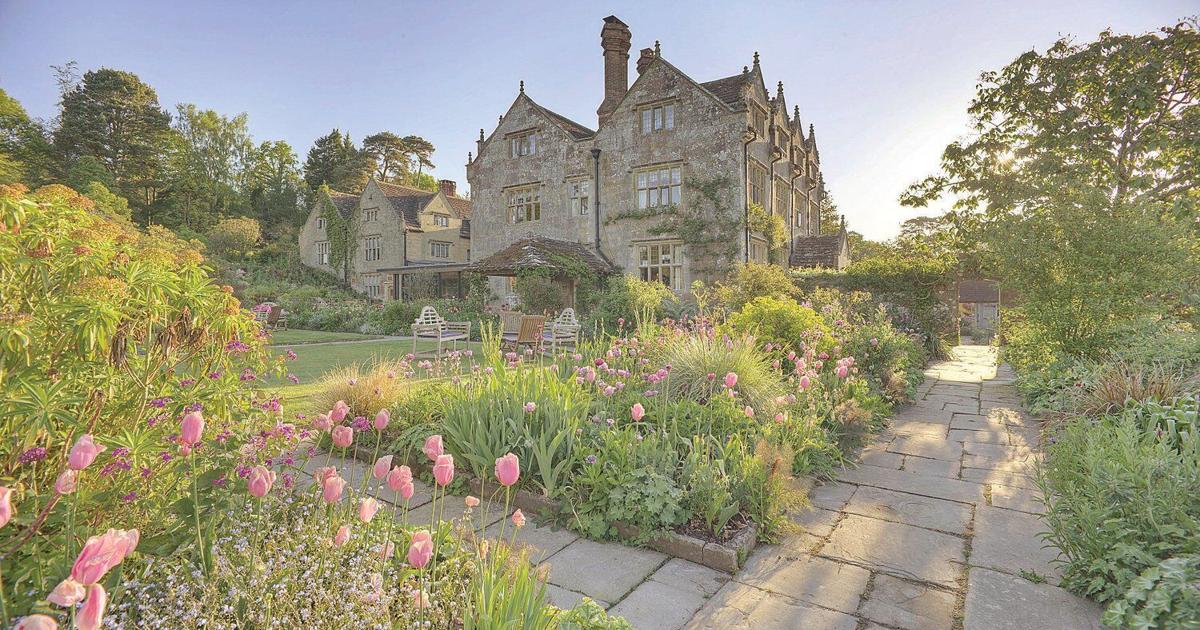 Berkshire Botanical Garden Winter Conference: Wilderness Meets Kept Garden | Archives
Famous 19th century Irish gardener William Robinson was an iconoclast.
The grandfather of all modern garden sensibilities and designs "was a trailblazer who took high Victorian formality and broke it," Michael Beck, executive director of the Berkshire Botanical Garden, recently explained over the phone.
"He strove to bring the natural environment into our gardens," just as Beck and his team of horticulturalists do in Stockbridge.
Beck invited Tom Coward, head gardener of the famous Robinson's old Gravetye house (pronounced grave-tie) to the Berkshires to talk about Wild Gardens and their champion at the 23rd Annual Winter Conference Saturday at Lenox High School.
"Gravetye is an Anglo-Saxon word, which means 'clearing in the woods,'" said Coward, calling from the UK. "We are on the edge of Ashdown Forest, historically one of the last wild forests in England. This is where 'Winnie the Pooh' was written and filmed."
An upscale 1960s hotel, the Elizabethan mansion "is 30 miles from London, but in the middle of nowhere, so we have the best of both," he said.
Born during the Potato Famine, Robinson gardened in Irish estates before moving to London in the 1860s. "He had an immense work ethic and intellect and developed as a writer", Coward said.
Robinson's best-selling titles included "The English Flower Garden" and "The Wild Garden"; and he learned French to write about Parisian parks and gardens.
He introduced wilderness to the manicured garden with full, soft mixed borders of native and introduced plants, informal groupings of trees and drifts of bulbs in wildflower meadows – the ideal of the English country garden.
Socially mobile at a time of great prejudice against his countrymen, Robinson purchased Gravetye as a 1,000-acre testing ground for his progressive landscaping.
Coward has spent a decade renovating these revered gardens.
"I've always gardened," he says. "I grew up on the Isle of Wight, off the south coast of England. It's very beautiful."
Due to the warm microclimates, the island's botanical garden "has a really interesting collection of Mediterranean, South African, Australian and New Zealand flora," Coward said. "It's always been a fascination."
In her early years, Coward gardened with her mother. "I used to do gardening work in the village for the old people who were very good gardeners [but] need someone young to help them.
"An intimidating character called Colonel Yule taught me a lot about gardening," he said. "He was terrifying at first and would hit me with his cane if I didn't weed properly. He became a very dear friend."
When a dairy farm Coward worked for closed, he found a job planting trees at a fruit nursery.
"I was 16 and fell in love with growing trees," he said. "They don't kick you like dairy cows do. Fruit is a great place to start because you have really tangible results."
Coward studied botanical horticulture at Kew Gardens, and his employers included Sir Paul McCartney.
"I was lucky to have really good teachers and mentors, they were brilliant people and they encouraged everyone around them," he said. "Horticulture does that; if you love what you do, you want to share it."
Like Robinson, Coward traveled widely. At 20, he spent a gap year working with trees in Oregon and gardening in France and New Zealand before returning to England and the historic Great Dixter and Gravetye estates.
"Looking at plants in the wild is key to really understanding them and meeting as many gardeners as possible," he said.
He visited the Negev desert in Israel to study how plants adapt and evolve in extreme habitats. Gardeners must also learn to adapt. Coward noticed later winters and hotter summers with more unpredictable rainfall.
In recent years, he has visited both American coasts almost every year.
"There's very new thinking in the United States, especially with the wild garden, an intellectual element that's really exciting," he said.
His observations of the warm-season prairies of New England inform experiments with herbaceous perennials in the cool-season prairies at home.
Coward will also talk about Gravetye's unique oval vegetable garden. Completed in 1900, it "was one of the last great kitchen gardens ever built".
"It was a really exciting project to restore this from brambles and thistles to a productive garden with a purpose."
He grows produce for the mansion's restaurant that cannot be purchased elsewhere. "Our challenge is to have a [year-round] production of fruits and vegetables with key ingredients every month for a Michelin star menu," he said.
Coward is passionate about growing food. "It's almost an extension of the wild garden because it's part of connecting with nature and can have a huge effect on the world around us," he said.
Wild gardens work best when contrasted with an element of formality, he said. "Robinson designed the garden very well with sometimes subtle, sometimes strong contrast.
"I studied Robinson when I was a student, and I've known Gravetye since I was 18. It's a dream come true to work here. The garden was so in need of updating, there's always a step to cross, the work is never finished."
It's important to respect the legacy within a historical setting and context, he said, "and to keep moving forward in the vein of what Robinson was trying to achieve. This is not a museum piece, it is personal and progressive.
"And it's come full circle – I work in a historic garden and continue to grow fruits and vegetables," he said.
"Tom Coward is a wonderful speaker, very down to earth," Beck said. "The Winter Conference is our biggest speaking event on the calendar, [with] more than 400 participants last year. It's a great way for people to get excited about the new season and hear from some truly inspiring and well-known professionals in the field, see great photos of beautiful places, and reconnect with each other. . It really rings a bell at the start of a new year."
Unlike previous speakers, Coward will not be signing his books during the dessert reception after the lecture. The popular magazine and media contributor wrote none.
"There were endless discussions," he said. "But I prefer gardening."